GENESIS OF THE INNOVATIVE METHODOLOGY SOCIO-ECONOMIC ACTIVITIES: THEORETICAL ASPECTS OF MANAGEMENT
Keywords:
Methodology, system, innovation, networking
Abstract
In the context of digitalization, methodological searches in the economy are combined with social, psychological, territorial, biological and other scientific searches that reflect network interaction. The purpose of the work is to substantiate the concept of «methodology of research in economics» supplemented by innovation and the relationship with other sciences 
References
Babaev B., Vodomerov N., Gordeev V., Kornyakov V. On the search for a formula for the development of Russia // Economist: scientific and practical journal. 2008. No. 12. P.23-26. Bernanke F. Economics. Express course. - St. Petersburg: Peter, 2012 - 720 p.
Golubovich A.D., Idrisov A.B., Inozemtsev V.L., Titov B.Yu., Shpigel M.M. Way out of the crisis: rejection of the commodity model. New industrialization // Metallurgy of mechanical engineering. 2010. No. 6. P.2-11. Grandberg Z. Neoindustrial paradigm and the law of vertical integration // The Economist. 2009. No. 1. S. 38-41.
Zemlyakov D. Problem of identification of the Russian economic school: gnoseological and methodological aspect // Russian economic journal. 2014. No. 3. S.56-60.
Kuhn T. The structure of scientific revolutions. - Moscow: AST, 2009 .-- 310 p.
Leksin V. Russia before, during and after the global crisis // Russian economic journal. 2009. No. 7-8. S. 3-34.
A. Nesterenko What Baumol Didn't Say; contribution of the twentieth century to the philosophy of economic activity / A. Nesterenko // Economic Issues. -№7. -2001. - P.4-17.
North D. Institutions, Institutional Change and Economic Performance. - M .: Fund of the economic book "Beginnings", 1997. -P.21.
Ovchinnikova T.I., Bulgakova I.N., Khorev A.I., Belyaeva G.V. Structural-complementary approach to the formation of innovative regional advantages in the context of globalization // International scientific research journal, 2020. No. 7 (97). Part 3.S. 131-141. DOI: https://doi.org/10.23670/IRJ.2020.97.7.095.
Ryazanov V. The Russian School of Economic Thought: the Universal-Universal and the Nationally Special // History of Thought. Russian thought tradition (almanac). -2013. - Issue 6. - P.345.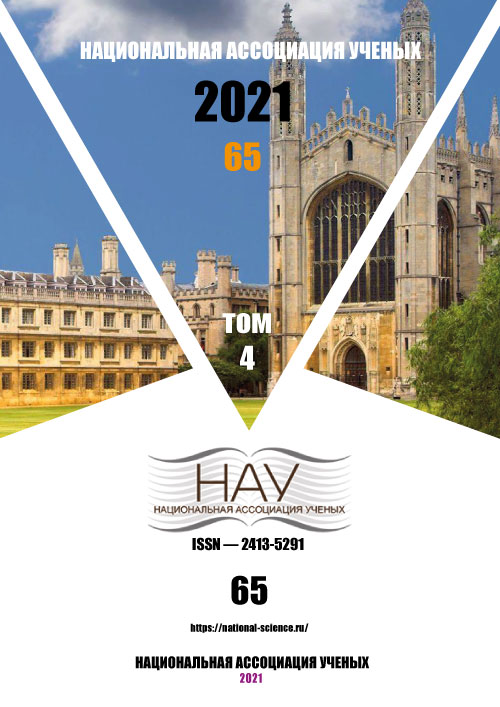 Downloads
License
This work is licensed under a Creative Commons Attribution-NoDerivatives 4.0 International License.
CC BY-ND
A work licensed in this way allows the following:
1. The freedom to use and perform the work: The licensee must be allowed to make any use, private or public, of the work.
2. The freedom to study the work and apply the information: The licensee must be allowed to examine the work and to use the knowledge gained from the work in any way. The license may not, for example, restrict "reverse engineering."
2. The freedom to redistribute copies: Copies may be sold, swapped or given away for free, in the same form as the original.